Make a Techpack with your Favorite Cards
... with the Least Effort!
Jan 24, 2017
You probably see how most techpacks can share details, such as fabrics, printings, or measurements. To avoid repeated data entry, you can copy cards from one techpack to another. However, as the number of techpacks grow, searching cards to copy can become more and more difficult. Therefore, we launched "My Favorites" to manage and reuse common details with ease.
As you might have noticed, we've inserted a preview widget of favorites at the lower left corner. Together with the original favorites page, you can now:
Save measurement tables
View all bookmarked cards and drag them to techpacks
Search for a particular card
To start creating your favorites library, take a look at the following steps -
Step 1 - Save Techpack Info to "My Favorites"
In favorites, we store cards into 2 separate folders: Card Library (image + descriptions) and Measurement Template.
To save cards -
Click "..." to display the action menu. Select copy and add a card to Favorites (see image below).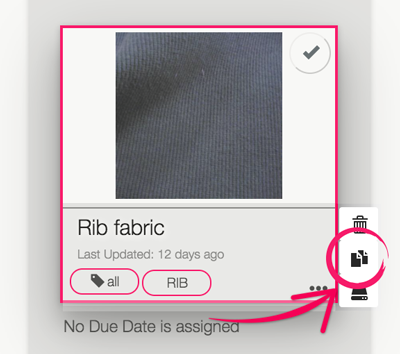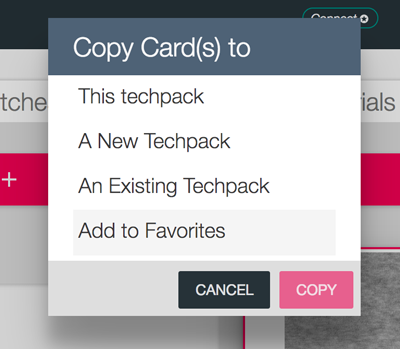 You can also select multiple cards by clicking the check button on the top right corner of cards. Once they are selected, action button will show above the "+" button. Again, click copy to add cards to Favorites (see image below).
To save measurement table -
In List View, you'll see a crop icon next to the POM table (see image below).
Click on the icon and input a title for your saved size template chart (see image below).

Or you add a measurement template directly in the "My Favorites" folder. Click "Add Measurement" on sub-menu, and it will generate an empty table with a default name (see image below).

To rename the template, double click the title and replace it. Then, just like List View, you can freely add columns and rows to the new template (see image below).
Next time you work on a similar product, you can simply just add your saved templates, instead of using valuable time starting from scratch.
Step 2 - Search Cards or Templates
To filter cards from the scaling Favorites, you can click the search icon at the end of the favorite bar. Enter keywords and all relevant cards and/or templates will be displayed in a second (see image below).

Step 3 - Drag Favorite Cards/ Templates to a Techpack
To add cards, simply drag and drop the cards to techpacks in Techpack Dashboard or card column in Card Dashboard (see image below).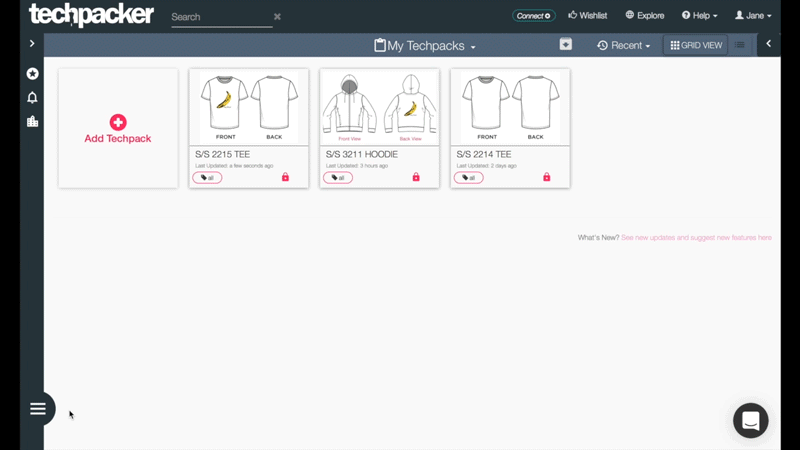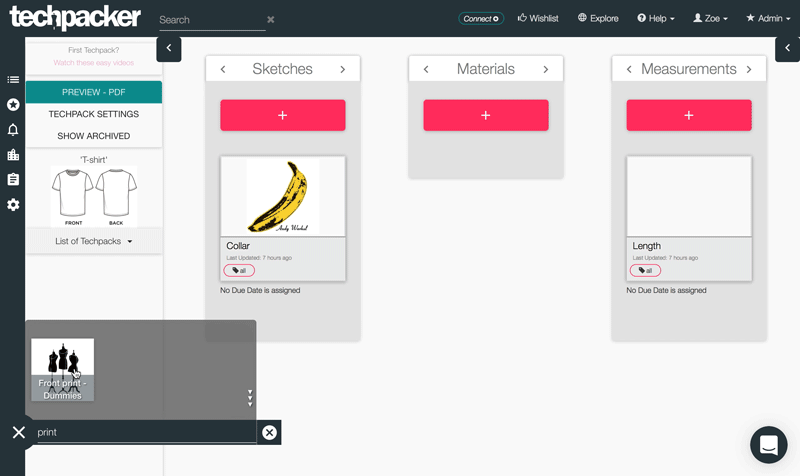 To add measurement tables, go to List View and drag templates to the POM tables. All rows and details are inserted immediately (see image below).
Now creating a techpack has been a whole lot simpler and easier with My Favorites! It's time to create and bring your techpack library online!
Frequently Asked Questions
Does it work if I drag a size template to a filled chart in techpack?
Yes. All info of filled chart will be updated by the template, including new rows (e.g. new measurement) and columns (e.g. new size).