Print Techpack Comments
Feb 02, 2017
In the previous comment chapter, you know how to message and reply your partners inside the cards. But is it possible to make a copy of them for reference? Actually, YES.
Go back to Print/Download Techpack, we have discussed on how to choose printing layout by "Print Options". Same here, you can also activated "Print Comments" function.
Step 1 - Preview Techpack PDF
Click "Preview - PDF" clipboard icon on top bar menu (see image below). You will be soon redirected to the page for sending/ creating PDF.
OR click "PREVIEW - PDF" on the expanded panel at the side sub-menu (see image below).
Step 2 - Print Commemt
If you have left comments inside the techpack, the comments history will be shown at the end of techpack with Techpacker's watermark (see image below). This refers that the print comment action is inactive and the comment pages will not be created / printed in PDF.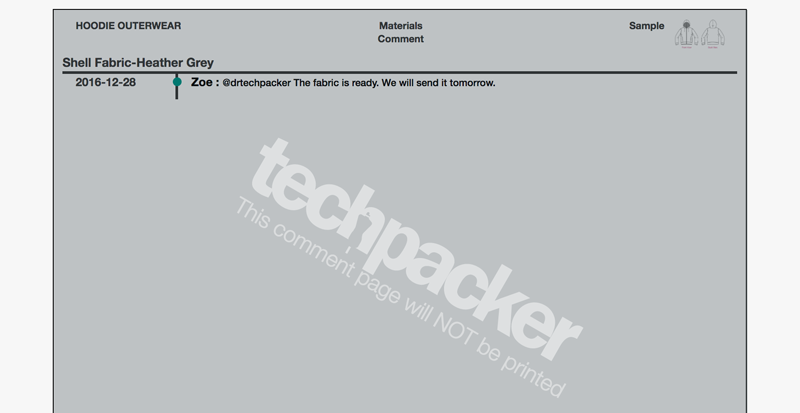 To activate the function, click the "Print Options" button next to "Create PDF" to display the dropdown menu. Select the "Print Comment(s)" and the waterprint is removed. Now, you can generated PDF with all conversation records in each card with clearly stated time.